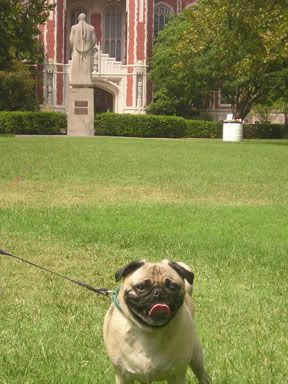 I'm Sooner born,
and Sooner bred,
and when I die,
I'll be Sooner dead.
Those are lyrics from the University of Oklahoma's "Boomer Sooner" fight song, which contrary to popular perception has more than two words. And although my AKC papers say that I am a pure-breed pug, I am, in fact, Sooner bred as well. So I ventured to Norman, Okla., over the weekend to watch my beloved team vanquish the Washington Huskies. Allah blessed us with wonderful football weather. It was sunny and breezy, not too hot. The electric game-day atmosphere can be appreciated even by those who aren't big sports fans. The band plays. The crowd chants. The cheerleaders defy gravity. The
Sooner Schooner
(which my mother once hitched a ride on) races around the field after Sooner scores. And best of all on this day, the Sooners pulled away in the second half for a decisive 37-20 victory.
My parents raised me to be a Sooner pug, giving me my first OU collar when I was a young pup. Had I opted for a secular education -- rather than studying at madrassas in Pakistan and Yemen -- I would have probably attended OU. An English major, perhaps. So it was great fun to sniff around the South Oval and walk through Campus Corner. Perhaps, God willing, I will go back for another game before this season is over.
On Monday, after a weekend of celebrating the Sooner victory with Norman's own Rabbi Jake, I had a very important meeting -- one that could forever alter the course of Pug Life Ministries. Although it is not in my nature to be mysterious, that is all I can tell you at this time. Stay tuned ...