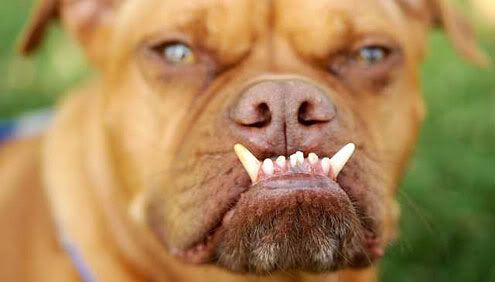 In a history-making upset over the weekend, a boxer named Pabst claimed the title of
World's Ugliest Dog at the Sonoma-Marin Fair
in California. Pabst (above), so named because of his "
bitter beer face
," defeated a Chinese crested to claim the prestigious title in the one contest that yours truly could never win.
Pabst's blue-ribbon win was surprising because the Chinese crested breed typically owns the title. It's like the greyhound in racing, the Kennedy and Bush families in politics, the bad accent in "True Blood." The Chinese crested has "ugly" embedded in its DNA. So the boxer's win, aided by his reverse-vampire underbite, was quite a feat, indeed.
Pabst's caretaker, Miles Egstad, was surprised by the boxer's victory, exclaiming, "I don't think he's
that
ugly!" Still, he was surely happy to pocket $2,600 in prize money. I tend to agree with Egstad's assessment -- Pabst doesn't even come close to the standard of ugliness set by
legendary three-time winner Sam
. As a fellow owner of an underbite, albeit a much less severe one, I believe that Pabst's dental issues convey a certain gravitas. But Pabst is a deserving champion and should be commended on his win. Thankfully, this year's contest was not
marred by any ugly controversy like the 2006 event
.
Pabst, we at Pug Life Ministries salute you, and we eagerly await the arrival of your $260 tithe. You have joined the pantheon of unappealing pooches, scaling the highest heights of hideousness. Many dogs competed, but only you could fetch the ugly stick.
In closing, I would like to recite a poem from the classic 1986 movie "Wildcats." This one's for you, Pabst: