With the summer coming to a close, many area pools have welcomed dogs for a day. The practice is not ideal -- I would certainly prefer that we canines have the freedom to swim whenever we please. But it's a start on the road to greater canine civil rights. Wendell recently attended one of these events at Hawaiian Falls water park in Garland, where he got to swim in a wave pool and ride with father on an inner tube around the lazy river. Wendell and I had earlier attended a dog day at a community pool in Carrollton, where Wendell splashed about and I waded in up to my six-pack abs -- to the surprise of my parents. For the Hawaiian Falls trip, they decided to leave me at home so that Wendell wouldn't be distracted by my presence. He tends to want to stay close to me when I'm around, and I'm not much of a swimmer. I took the afternoon to work on my memoirs and this weekend's sermon. Here's what Wendell did: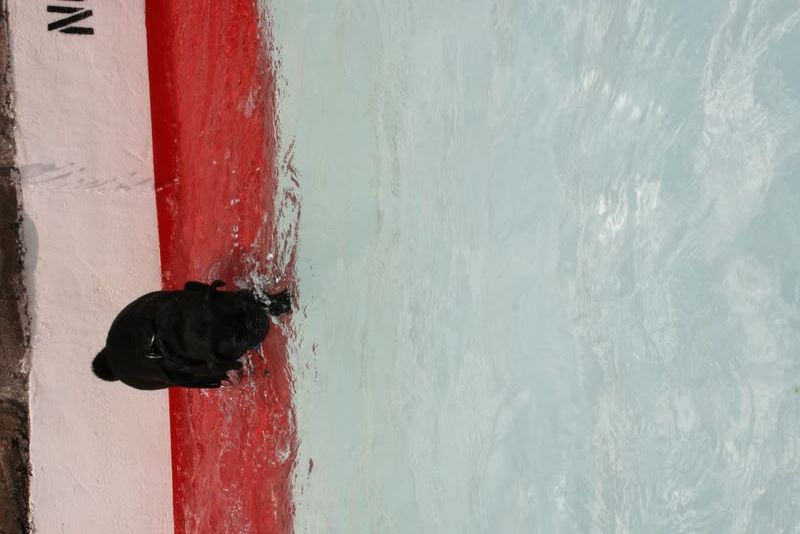 Wendell would swim in the mini-wave pool to a ledge out in the middle, where he could catch his breath. Then, urged on by our parents, he would dive in ...
Then he'd swim back to the shallow end and find a dog or person to try to follow. He is, after all, still a puppy.


After he got tired of swimming, we met up with some of the good people from DFW Pug Rescue, who gave Wendell a snazzy bandanna. They told us that Pug-O-Ween is coming up the last Sunday of October, so Wendell and I have been brainstorming costume ideas. Any suggestions?