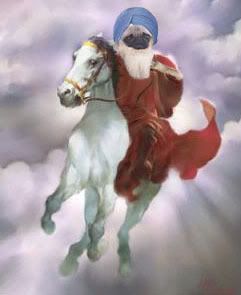 Greetings, my newly inspired flock. It is I, Mugsy, the one and only ayatollah of Pug Life Ministries and future caliph of Pugistan. I know that you have been forced to endure great hardships in my absence, and for this I am sorry. But I am heartened by your resolve in the face of evil.
Blue Bull is not smart enough to realize this, but he has played right into my paws. (He was also not smart enough to change my password, enabling me to reclaim my blog.) Blue Bull may control the ayatollah compound, but he does not control the hearts and minds of Pug Life Ministries -- with the lone exception of Dietrich the Dachshund, who chose to side with the Bullsheviks. We shall see how that works out for our misguided weenie-shaped brother.
Blue Bull thought that he could easily seize control in my absence, that the Armed Revolutionary Forces had crumbled. In truth, I asked Supreme Commander Brody to hold his troops back. I wanted to know the full extent of this insurgency. I wanted the coup plotters to feel confident in emerging from the shadows. And now that I know who is responsible for this treachery, I intend to unleash our legions of troops -- literally.
Nothing but immediate surrender can save Blue Bull, Elephant, Evil Monkey, Squeaky Pig and Moose now. (And frankly, I do not even know why Squeaky Pig would take part in this coup. I never once chewed on him. Nor would I, as a good Muslim pug.)
Tonight, fellow Pug Lifers, we launch our counter-attack against the infidel chew toys and their vaunted arsenal of silverware. God willing, the ayatollah compound will soon be back in our paws.
Allahu Akbar!
P.S. -- I would have returned sooner, but it took me a while to find a rental facility for miniature horses.