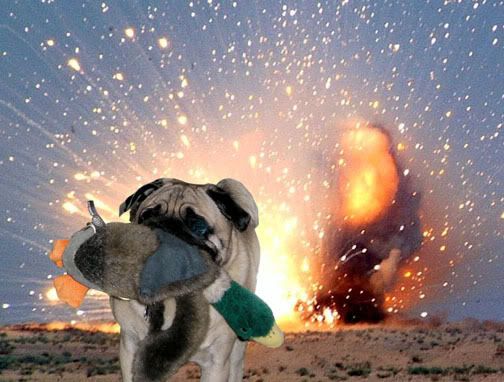 At long last, the hostage ordeal is over. Mallard, my faithful assistant and friend, is back at the ayatollah compound. I received a tip last night on his whereabouts and immediately departed to look for him. Mallard was tied to a railroad track several dozen miles west of Fort Worth, just as the anonymous tipster had said. A train was bearing down on him. I knew I had to act quickly, and yet it all seemed too easy. "Mugsy!" Mallard quacked. "Don't do it! Run!" Just as I suspected; it was a trap.
Blue Bull
was trying to lure me out into the middle of nowhere so that he could assassinate me and enslave the Pug Life population in his Godless communist labor camps. But if I didn't act, my friend would be run over by a speeding locomotive. Countless marathon chewing sessions had taught me that Mallard was one tough bird. But that tough? I didn't think so. Disregarding my own safety, I sprang into action. What happened next, you ask? I regret that I cannot say. But I am in negotiations to sell the exclusive movie rights to filmmaker
Michael Bay
, so perhaps you will someday see it on the big screen.