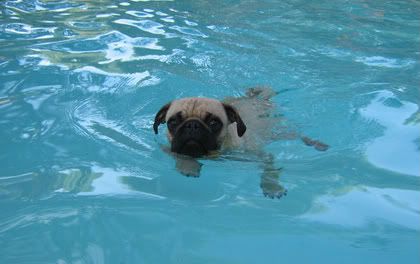 BEIJING (AP) -- Michael Phelps' bid for a record ninth gold medal in the Beijing Olympics was foiled early Sunday by
Eagle the Pug
, who set a world record in the 100-meter dog paddle.
Phelps was undefeated in these Games before he went up against the Texas pug, who was swimming as a member of the Pugistani team. Eagle had actually posted better times than Phelps in two previous races -- the 200-meter freestyle and 100-meter butterfly -- but was disqualified because of improper form.
Eagle was in his element in the dog paddle, however, finishing the race in 1 minute, 35 seconds to top his previous world record by 1.5 seconds. Analysts noted that Eagle pulled off the upset win despite being the furriest competitor in the otherwise clean-shaven field.
Eagle and his brothers Ranger and Flyer are the heavy favorites in Monday's 3x100-meter dog paddle relay, which could make Eagle the first two-time medalist from the breakaway republic of Pugistan. In addition to swimming the anchor leg for the team, Eagle is also the coach.
Ayatollah Mugsy, the iron-pawed ruler of Pugistan and supreme ayatollah of Pug Life Ministries, released a statement praising Eagle as a national hero. "In the true spirit of amateur athletics, all who witnessed this amazing feat will surely be moved to donate to the ministry's coffers," Mugsy said.
_____________________________________

WATCH THE VIDEO to see Eagle barking orders during the relay team's training.