Hi, everybody. Wendell here. Big Brother told me that I need to keep his blog updated while he's recuperating from surgery, and that's not a duty I take lightly. Even though I occasionally bite him and get on his nerves, I have nothing but respect and admiration for the big fella. Had the ayatollah not taken me under his wing when I first arrived at the compound, my only role models would be our human parents. And nobody wants that. So I'm going to try to make Mugsy proud. Here's a roundup of some news that might interest the congregation: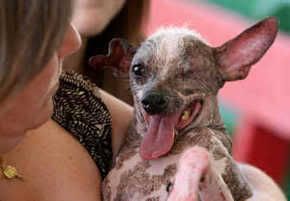 Congratulations are in order for Gus, who was crowned the world's ugliest dog over the weekend at the Sonoma-Marin Fair in California. Gus has one eye, almost no hair, and he's rockin' three legs. But still, he's kind of cute. Not pug-puppy-cute, mind you, but cute. He's no threat to the dynasty of ugliness that was the late, great three-time champ Sam. Fortunately, there were no scandals in this year's contest like the one in the 2006 competition.
The congregation might also be interested to learn that a California company will give away a free dog cloning to the pet owner who best pleads his or her canine's case for immortality. BioArts International says it will accept submissions for the Golden Clone Giveaway in the form of 500-word essays submitted by 3 p.m. today. The ayatollah has made clear his feelings on the matter, so I strongly discourage you from entering.
Finally, you may have heard that God was arrested on a charge of selling cocaine near a Florida church. Don't worry; Mugsy assures me it's not that God.