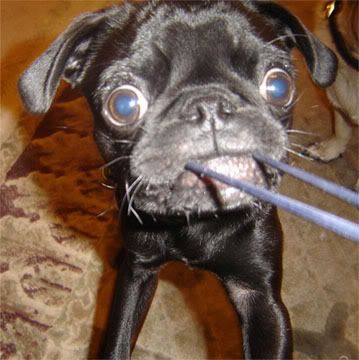 DALLAS (AP) -- A photographer working for OK! Magazine said he was viciously assaulted Thursday by a pug in the entourage of religious icon Ayatollah Mugsy.
The paparazzi cameraman, who witnesses said had been hounding the famed cleric all evening, identified the assailant as Mugsy's younger brother, Wendell. He said the black pug grabbed his camera and threw it to the ground before stomping on it with his ultra-long legs and then running in circles in a menacing manner.
"All the while, the ayatollah just stood by, smirking," said James Thompson, 44. "He wasn't gonna do nothing to help me. I became disoriented. I thought I was gonna die of dizziness after watching that pug."
Police said they were investigating the incident. It wasn't the first time Ayatollah Mugsy's Pug Life Ministries had been involved in a run-in with the paparazzi. Mugsy was accused of
attacking a tabloid photographer in December 2006
, although no charges were ever filed.
Late Thursday, TV host Phil McGraw, a.k.a. "Dr. Phil," was reportedly turned away from the ayatollah's North Texas compound after making an unannounced visit to check on the alleged assailant.
"I believe he may have rage issues," said McGraw, who appeared to be nursing a bite mark on his lower leg.