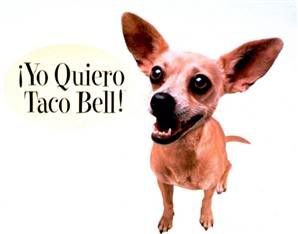 Gidget, the Taco Bell Chihuahua who brought joy and late-night nacho-cravings to millions,
has died
. The 15-year-old passed away Tuesday night of a stroke.
Though Gidget was tiny in stature, she was a giant in the advertising world. From 1997 to 2000, she served as the chief spokesdog for the Taco Bell brand, uttering catchphrases such as "Yo quiero Taco Bell!" and "Viva gorditas!" An accomplished thespian, Gidget also appeared as Bruiser's mother in "Legally Blonde 2" with Reese Witherspoon, and she co-starred with Robert De Niro in "The Fan."
Gidget proved the old adage that you can never go wrong by putting a dog in a TV commercial, especially a talking dog. (
Separate male and female outdoor bathtubs overlooking a body of water
, however -- never a good idea.) Her popularity inspired a line of T-shirts and toys, including a stuffed, talking Chihuahua that resides within the ayatollah compound.
After Gidget's retirement in 2000, Taco Bell went into an advertising freefall from which it has never recovered. The magic of the Taco Bell dog could never be recaptured in campaigns such as the silly "Fourthmeal" promotion, in which the fast-food eatery sought to overturn centuries of established three-meal eating practices. Advocates of traditional family eating condemned the
Fourthmeal campaign, arguing that late-night snacks were OK but that a fourth meal crossed the bounds of decency. Taco Bell's creative lull continues to this day, as evidenced by the God-awful "It's All About the Roosevelts" song now blaring on the company's Web site.
Click here to listen, if you dare
.
Gidget charmed the world, sold a boat-load of tacos and served as a positive role model for countless wise Latina canines. We mourn her passing, but we also celebrate her accomplishments, including the masterpiece below:

Rest in peace,
chica buena
. You will be missed.