Our long drive finally over, I bounded out of the car. We had arrived at the social event of the year: Pug-O-Ween. I quickly donned my

Pugly Duckling costume

in the parking lot, and we made our way into the Elzie Odom Recreation Center. Inside, I was greeted by a glorious sight, a veritable feast for my oversized eyes. For the first time since my last Hajj trip to Mecca, I felt as if I was home. I barked a silent prayer of thanks to Allah.

I was accompanied by my parents and a pair of relatives from out of town. My grandmother and great-grandmother made the trip to take in this spectacle, as much an auditory experience as a visual one. A symphony of snorting and grunting filled the gymnasium, which must have held at least 200 costumed pugs. I quickly went to work, sniffing out prospective congregants and donors for the ministry. Pug-O-Ween is the only place in Dallas-Fort Worth -- at least until the Dogloo compound is completed -- where one can find such a grand concentration of pugs.

The costumes this year were outstanding. My personal favorite was the Bride of Puggenstein, but the Herbie the Love Pug and I Dream of Jeannie costumes were excellent as well. (All three are pictured above.) The doggle-wearing bodybuilder was also most impressive. And for the second year in a row, I was smitten with a hula dancer. There is just something about those grass skirts. I chose not to enter any of the costume contests this year, to give my pug brothers and sisters a chance. I am nothing if not benevolent.
PUG LIFER SIGHTING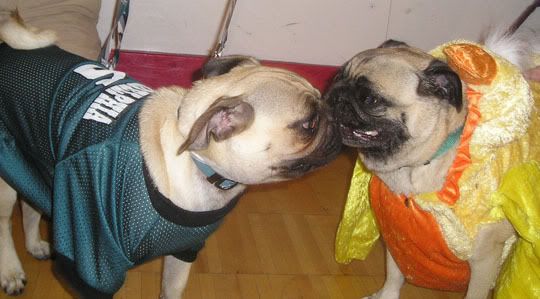 Among the scores of attendees at this worthy fundraiser was
Eagle
, Pug Lifer and blogger extraordinaire. We chatted briefly.

"Mugsy," he said, "I have heard that rawhide is the opiate of the masses. Is this true?"

"Yes," I replied. "Let us go find some."