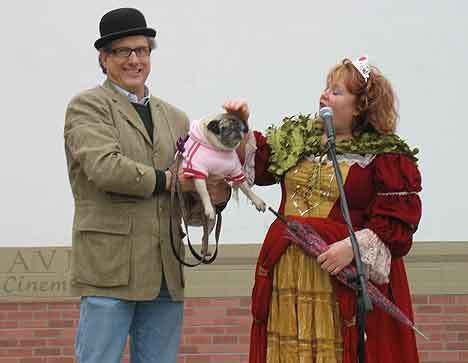 Many of you have no doubt heard about

Punxsutawney

Phil, the weather-forecasting groundhog. But did you know that there is a pug who predicts rainfall? And not only that, she is far more trustworthy than most TV meteorologists -- and certainly more so than any who wear bow ties. Today's lesson, class, is about
Mattie the pug
.

Mattie, a 6-year-old, made her annual prognostication at last Saturday's Pacific Northwest Rain Festival in

Bellingham

, Wash. Publicity chairperson

Taimi

Dunn

Gorman

told the Seattle Times that the event is "one of the shortest festivals in the world. An hour, maybe a little more. The pug is felt, then everyone heads off to drink or get something to eat."
And that is the highlight: The annual feeling of the pug (pictured above). As anxious

festivalgoers

watch with rapt attention, the event's Reigning Queen lifts Mattie from underneath an awning and thrusts her out into the elements. Mattie's fur is then felt for moisture. Wet fur means six more weeks of rain. But last week's event found Mattie with dry fur, and hence the Pacific Northwest can expect another seven weeks of rainfall.
In an affirmation of Mattie's uncanny prognosticating prowess, precipitation soon followed.