DALLAS (AP) -- The chew-toy protests escalated early Sunday, as furry demonstrators refused to obey an emergency curfew and clashed briefly with Pug Life Ministries enforcer Wendell the Pug. Shortly after midnight, demonstrators set fire to one of Wendell's tennis balls, a provocative act sure to inflame tensions between canines and their once-subservient toys.
"Burn, ball, burn!" the demonstrators chanted, reveling in the tennis ball's demise and their small victory over Ayatollah Mugsy, the pug whose iron-pawed rule they have railed against.
International observers said the chew toys' increasingly violent rhetoric and actions could backfire.
"Once Wendell gets a whiff of that burned rubber, watch out," said Doug Jordan, an expert in geopolitical affairs with Stratfor.com, a global intelligence firm. "The chew toys may have won the battle, but I suspect they'll lose the war -- badly. The pugs are probably just napping now."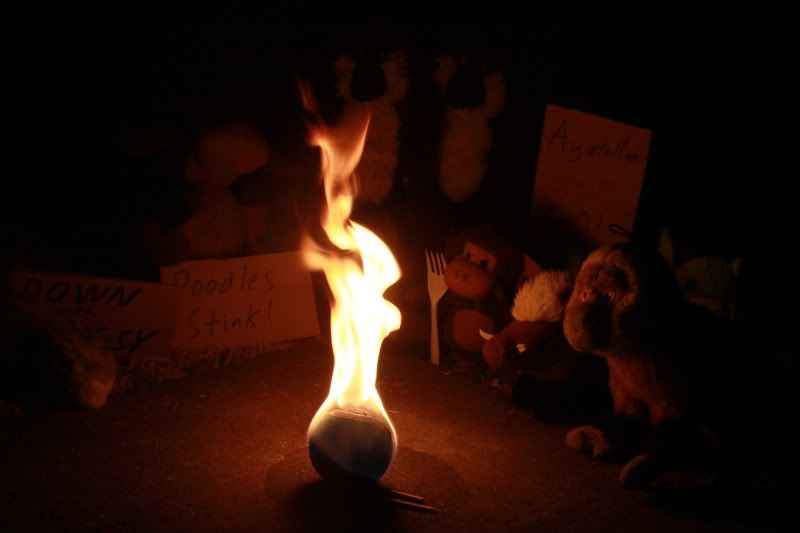 Still, others pointed out that the chew toys, riding a wave of international uprisings, had gained more traction than at any point since

the failed Bullshevik revolution of 2007

.
"The moment appears ripe for the toys to finally win some measure of autonomy," said Fay Dugan of the Chew Toy Anti-Defamation League, a Washington-based advocacy organization. "Mugsy doesn't really play with them that much anymore, aside from his panda concubine. He's more of a rawhide kind of pug now. He may be willing to make some concessions."
But concessions have never been the ayatollah's style. The fiery pug is known for his unyielding demeanor and his harsh crackdowns against those he deems a threat to his rule. Among his most notable acts have been

the 2010 abduction of actor Gene Hackman

in a dispute with Lowe's home improvement stores and

an ongoing clash with the International Atomic Energy Agency

, which says the ayatollah is holding three of its inspectors hostage in his kitchen freezer.
In an ominous sign, the chew toys reported shortly after 1 a.m. that they could no longer organize their efforts via Twitter or Facebook after the ayatollah ordered that his compound's Wi-Fi password be changed.