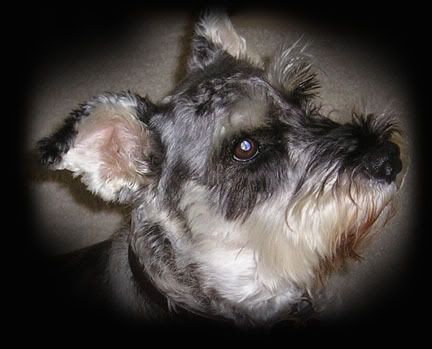 Today, I lost an old friend. Rabbi Jake, one of the elders of Pug Life Ministries, passed away after falling ill last week. I first met Jake when I was a puppy. He, too, was a youngster, and although we were about the same age, he always seemed like an older dog. Health problems plagued the schnauzer throughout his too-short life. He struggled to stand up on his own in recent years, but once he was upright, he still derived great pleasure from taking long, leisurely walks around the neighborhood. It was my distinct privilege to accompany him on some of those excursions. The sights and smells he'd encounter on those Oklahoma sidewalks always made Jake's day, and he would often give a grateful nip on the nose to his humans to show his appreciation.
Jake made his first appearance on this blog in the ministry's early days, back in 2005. And since then, I was honored to have Jake at my side for numerous momentous occasions. Our efforts for Mideast peace frequently left us
exhausted
, yet always hopeful. Jake was there to help me through the
enriched rawhide crisis
of 2006, and he helped me celebrate at the inaugural
Ayatollah Mugsy Scouts spring cotillion
last year. Jake also introduced me to the brand of canine freedom that only a
doggy door
can provide. We shared toys, bones and an appreciation for a good belly rub or a scratch behind the ears. You know, the finer things in life.
I am saddened that I will have no more adventures with Rabbi Jake, either on this blog or in his living room. Like all dogs, he was taken from us too soon. But I know that Jake was always loved by his family, and that he returned that love unconditionally. This, ultimately, makes the grief that we are now experiencing worthwhile.
Goodbye, my friend. We'll miss you.