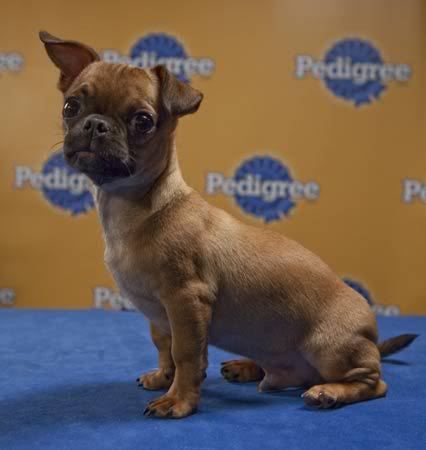 Congratulations are in order for
Puppy Bowl VI MVP Jake
, a pug/Chihuahua mix. In a contest filled with big plays and a gutsy onside-sniff call, the diminutive pup stood tall, winning both the judges' and the fans' vote as Most Valuable Puppy. Given his pedigree as an alumnus of All Star Pet Rescue in Linden, N.J., perhaps it's no surprise that the Philadelphia-area resident claimed top honors. He displayed incredible athleticism throughout the game and sealed his team's victory with a late-game interception of
Archie Manning
's 12-week-old dachshund. Jake is now said to be considering pursuing a career in modeling or acting. Good idea, Jake -- strike while the iron's hot. And please do not forget to tithe 10 percent of your earnings to the ministry.
To view some of Jake's highlights from the big game,
click here
. And to see some of the action on the slippery midfield logo, as well as the innovative use of a hamster-piloted blimp in Sunday's game,
click here
.